FREE SHIPPING FOR ORDERS OVER $65 IN THE US.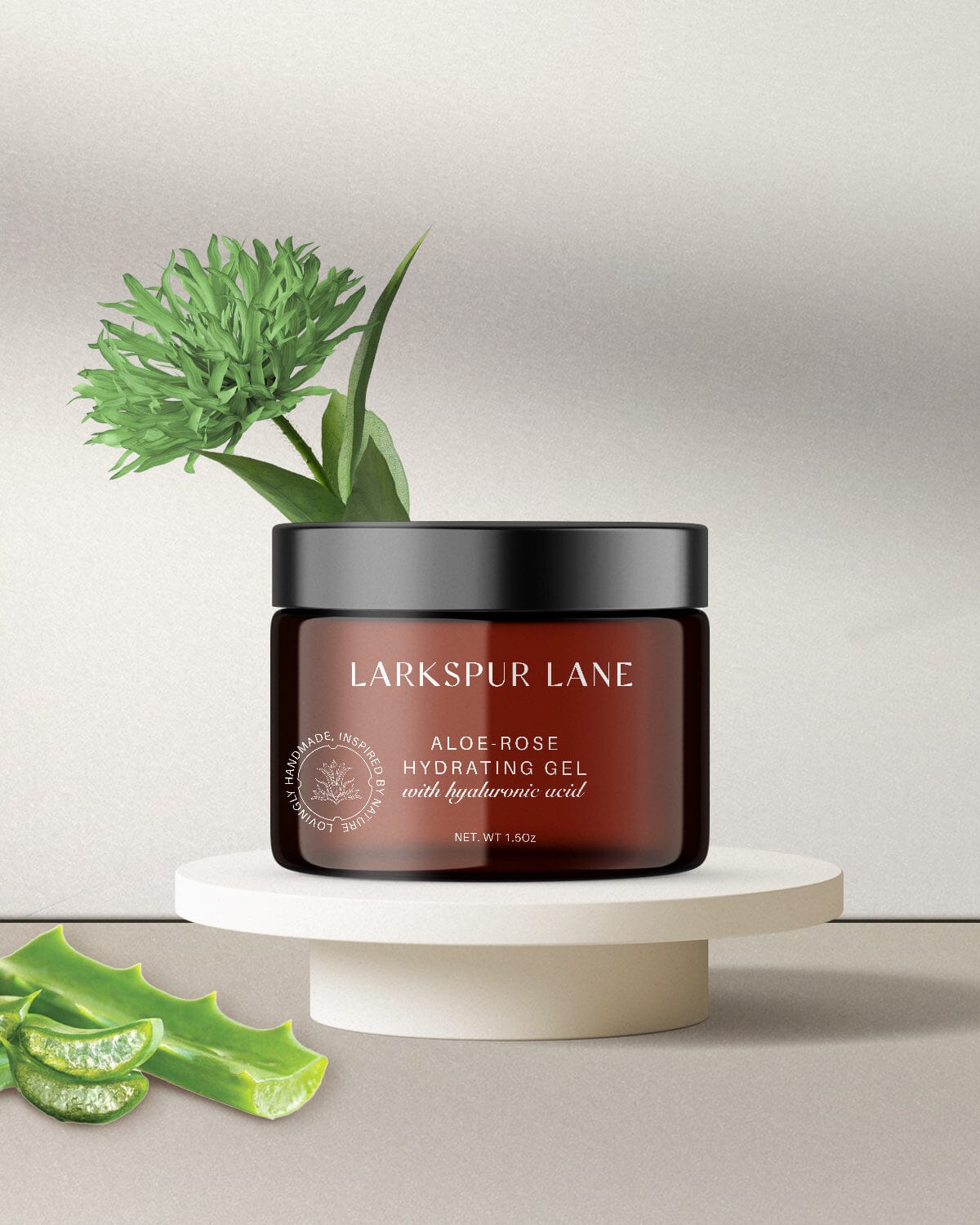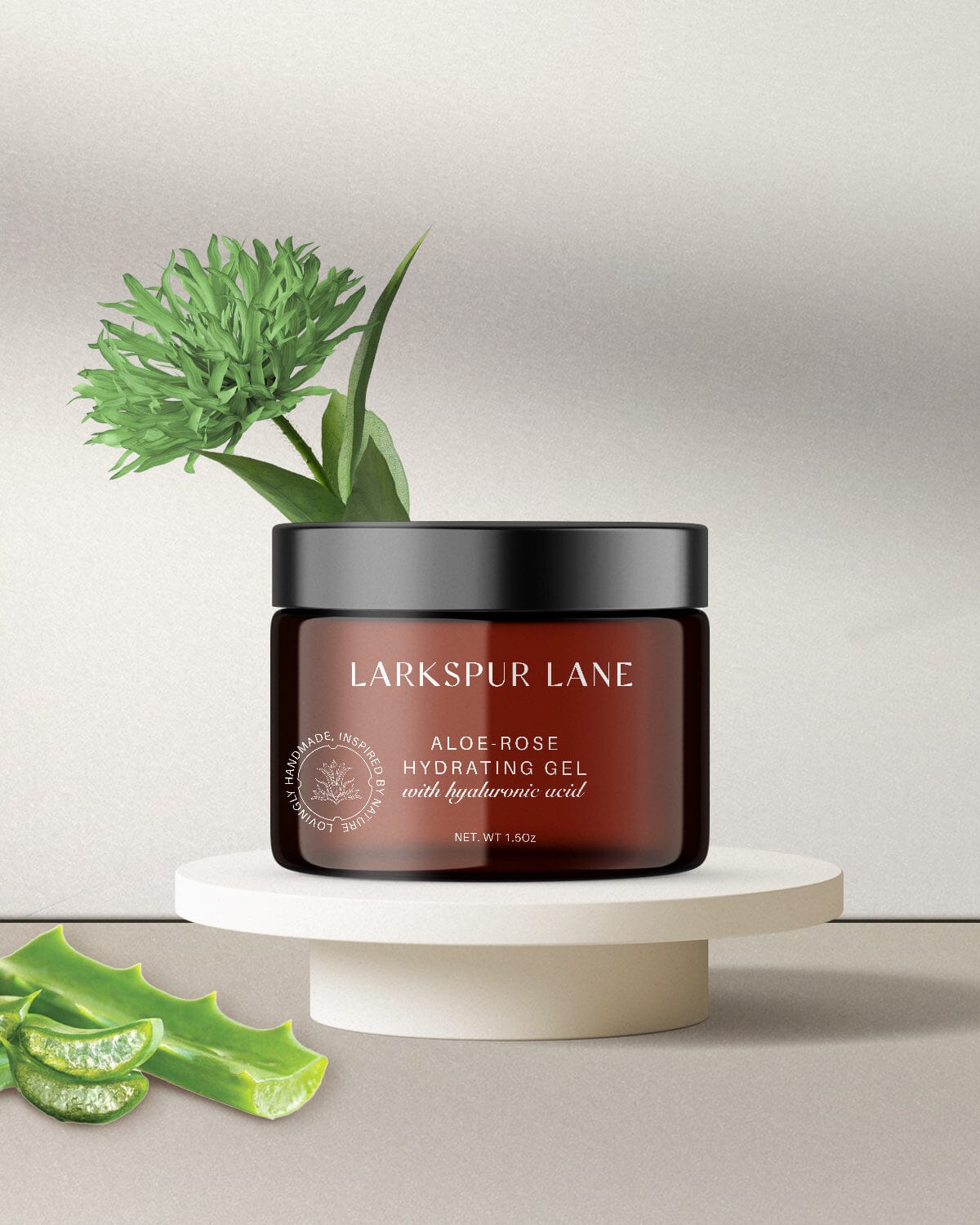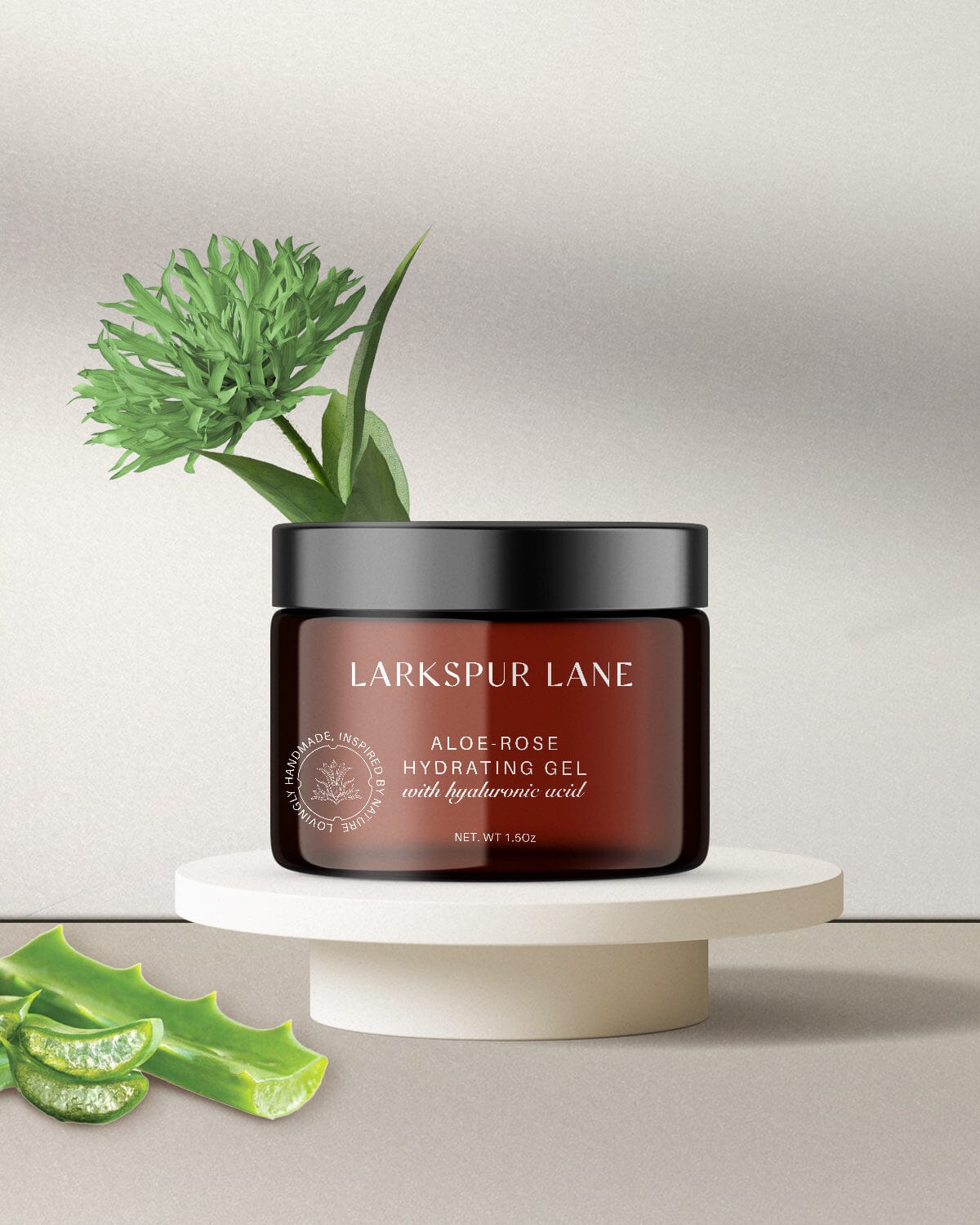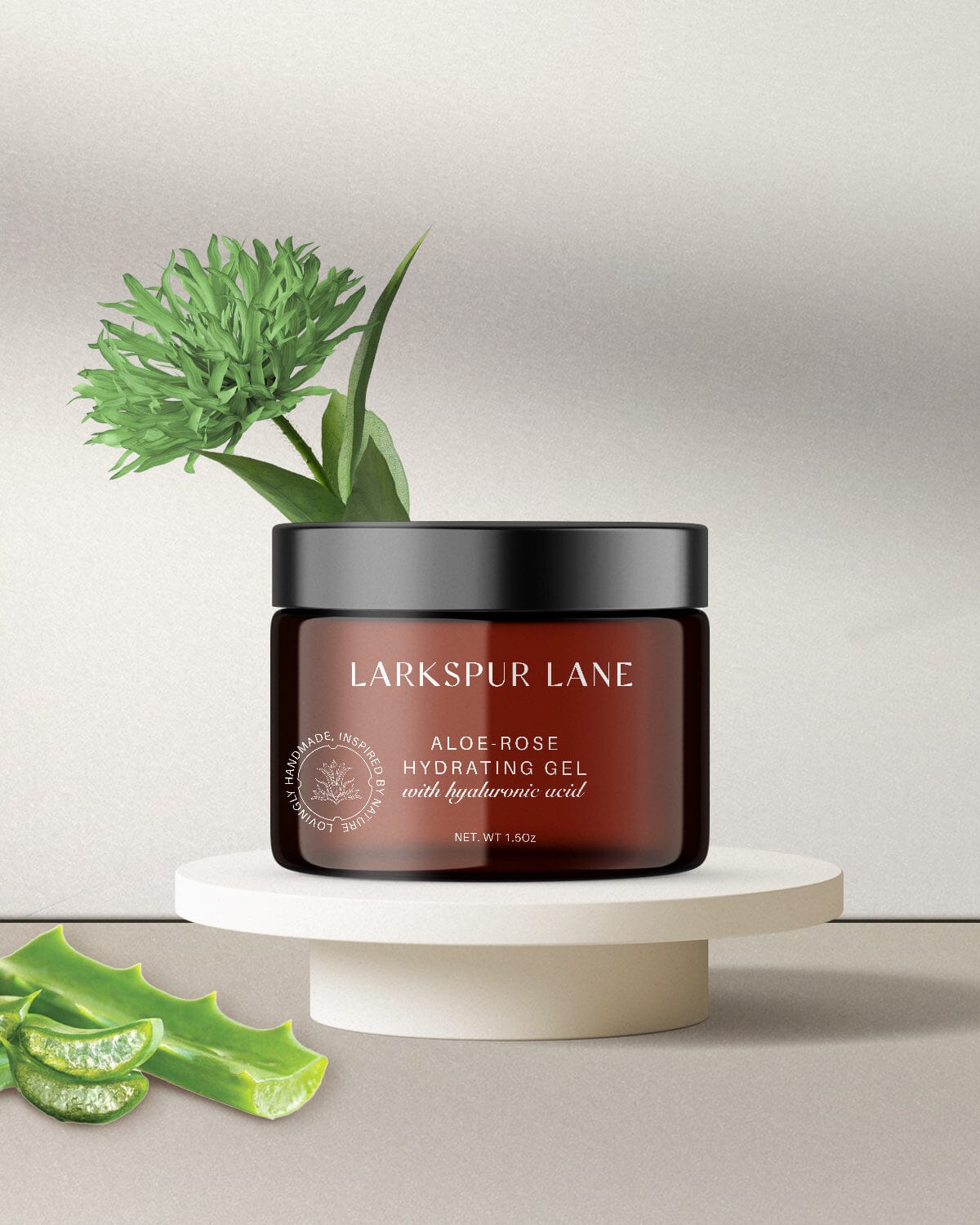 Aloe-Rose Hydrating Gel with Hyaluronic Acid
Introducing the luxurious Aloe Rose Hydrating Gel by Larkspur Lane, a skincare essential that will revolutionize your daily routine. Crafted with a blend of premium botanical ingredients, this gel is designed to provide intense hydration, nourishment, and rejuvenation for your skin.
Pamper your skin with the soothing power of rose water, known for its calming properties. This gentle floral water helps to balance the skin's pH levels, minimizing redness and promoting a more even-toned complexion. Combined with the hydrating benefits of aloe vera juice, this gel provides a burst of moisture, quenching your skin's thirst and enhancing its natural glow.
To combat dryness and maintain optimal hydration, our formula includes hyaluronic acid, a superstar ingredient renowned for its ability to retain moisture. It forms a protective barrier on the skin, locking in hydration and plumping up fine lines and wrinkles for a smoother, more youthful appearance.
Harnessing the benefits of prickly pear stem extract, this hydrating gel delivers a rich blend of antioxidants and vitamins to protect your skin from environmental stressors. Its rejuvenating properties help to firm and tone the skin, reducing the appearance of sagging and promoting a more youthful complexion.
We have also included willow bark extract in our formulation, known for its natural exfoliating properties. This botanical ingredient gently removes dead skin cells, unclogs pores, and promotes a clearer complexion, while also soothing any irritation or inflammation.
Experience the transformative effects of Larkspur Lane Aloe Rose Hydrating Gel, a multi-functional skincare essential. Suitable for all skin types, this lightweight gel absorbs quickly into the skin, leaving it feeling refreshed, revitalized, and deeply moisturized. Treat yourself to the luxurious fusion of aloe vera, rose water, and powerful botanical extracts, and indulge in a radiant and healthy complexion every day.
To use, massage a very small amount of gel into cleansed skin.
Aqua (Distilled Water), Rose Water, Aloe Leaf Juice, Opuntia ficus-indica stem extract, Lycium Barbarum Fruit Extract, Hyaluronic Acid, Salix Alba Bark Extract, Rosa Centifolia Flower Extract, Jasminum Officinale Extract, Bellis perennis flower extract, Exanthan Gum, Glycerin, Geogard ECT
PROUDLY HAND MADE IN IDAHO - 1.5 Oz.
Active Key Ingredients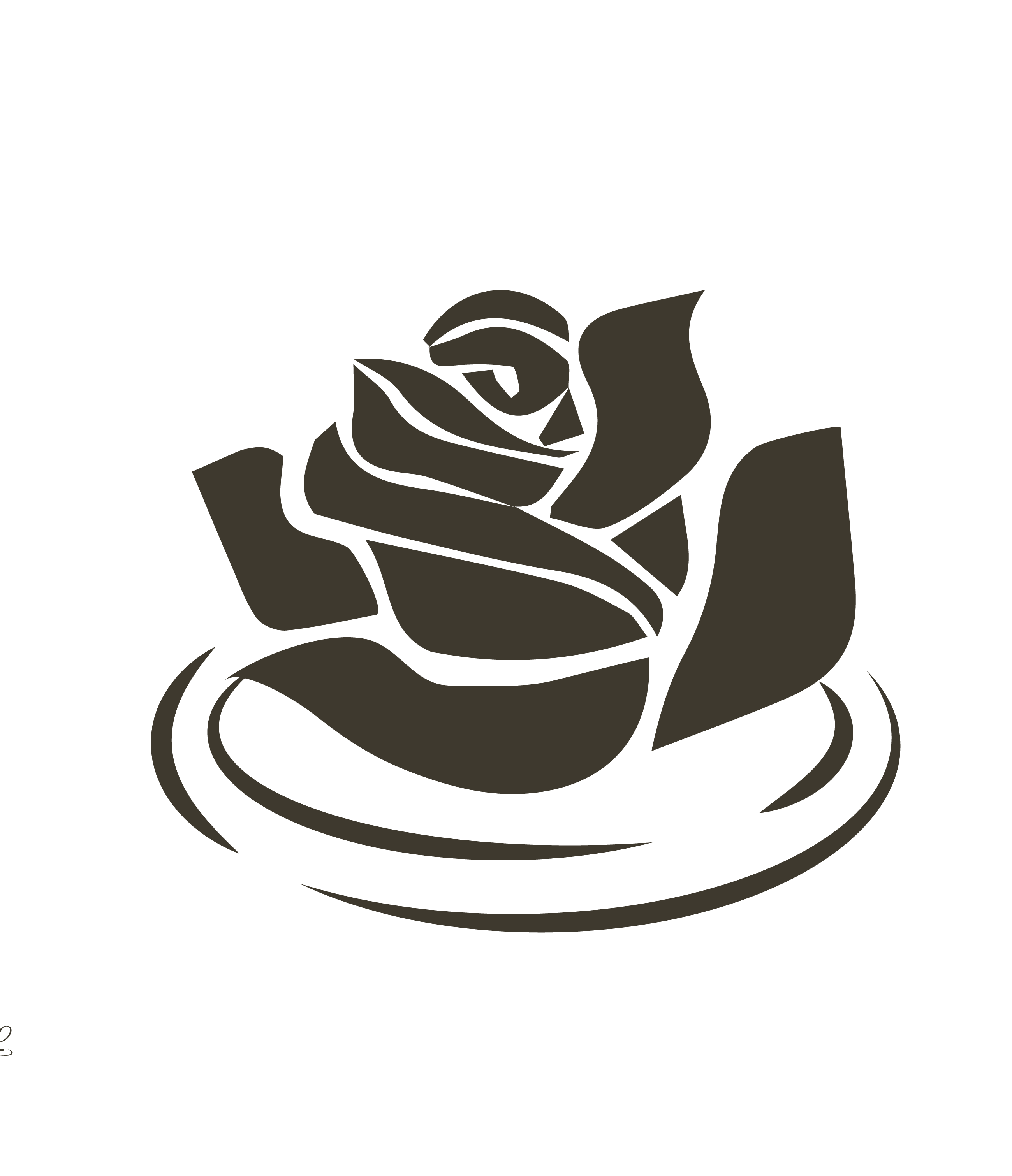 Rose Water
Balances natural oils, hydrates skin naturally and diminishes the look of fine lines and wrinkles.
Aloe Leaf Juice
Has antioxidants and vitamins to help protect your skin. 
Goji Berry Fruit Extract
An antioxidant that helps to promote collagen and elastin production, and reduces hyperpigmentation.
Willow Bark Extract
A gentle exfoliant which removes the dead skin cells and excess oil from the skins surface.
Lovingly Handmade
Larkspur Lane Soaps & Sundries is here to provide a natural alternative to commercially made skin care.  Inspired by nature - made to soothe, nourish, pamper and protect. Bath and body products handcrafted in small batches using the best oils, butters, clays, herbs and botanicals.